Ergonomics
Ergonomics is the applied science of designing and developing equipment, workstation layout and work strategies to best suit and protect the human body. The goal of ergonomics is to minimize fatigue, discomfort, injury and emotional stress.
It's important to recognize that even the most ergonomically correct environment will not prevent repetitive stress injuries if the body is simply overworked. The body has limitations with what it can withstand. Surpassing those limitations will most definitely result in injury.
Computer Workstation Ergonomics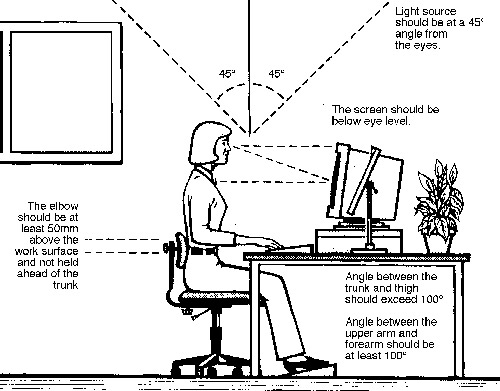 For more computer workstation ergonomics visit
www.healthycomputing.com/office/setup/monitor/index
FREE Postural Exercise Reminder Software
I highly recommend this program for many of us computer users. The software reminds us to take regular breaks (15min, 30min, 45min or 1hr) while at the computer and to help us be wary of our posture.
As a general rule you must stretch against stiffness but not against pain. If the stretch causes pain you are stretching too far or too hard.
Enjoy!
Disclaimer: Please note these exercises do not take into account the severity and differing conditions with which patients may present. Some of these stretches/exercises may aggravate one's condition. If you are currently experiencing pain please do not attempt these exercises without first seeing a health professional. Shambrook Chiropractic will not be held responsible for any injuries that occur as a result of these exercises.

If you would like more information, please feel free to call Shambrook Chiropractic at (03) 9432 8562.
In the Melbourne suburbs of Greensborough, Eltham & Diamond Creek…
Get the best for your back so you can get back to your best!